Sourdough Olive / Halloumi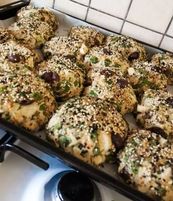 Instructions
Dough is obtained by mixing flour, milk, olive oil, warm water and sourdough.
Olives, halloumi, finely cut onion, spring onion leaf, golyandro, spinach, fresh mint and dried mint are added to the dough.
After the dough is kneaded, it is shaped and placed on a baking tray.
Sprinkle sesame seeds, black cumin and anise on it
Cover the tray with a moist towel and let it rest until it is fermented.
After cooking in a preheated 200 ° C oven for 10 minutes, the oven is lowered to temperature and baked at 150 ° C for half an hour.